The Prestige Lightvision
Pampered Skin, Personalised Tanning
Prestige Lightvision stands for an intensive tanning performance with skin caring Radiance Complete. Over 200 Radiance LEDs care for the skin and improve tanning results through stimulated oxygen production. The innovative light technology is certified by Medical Active.
Depending on the studio philosophy, there are two facial tanner technologies to choose from: Ultra Performance Plus for intensive direct pigmentation or Smart Light Performance (SLP) with an additional Radiance component for a particularly long-lasting, natural tan. Personal Sunstyle offers a desired tan at the touch of a button. Of course, Ergoline's top model is always equipped with a complete comfort package that leaves nothing to be desired. Pure luxury!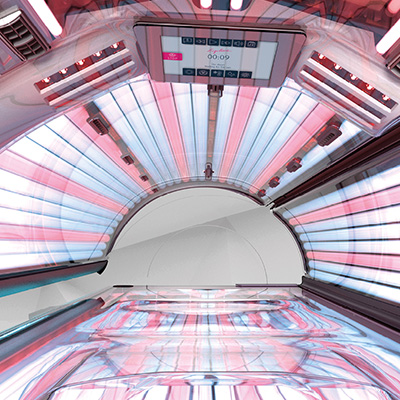 Pampered Skin
Radiance Complete
Over 200 Radiance LEDs and 14 smartsun lamps guarantee an effective skin care that you can see and feel. For a radiant complexion and velvetly skin.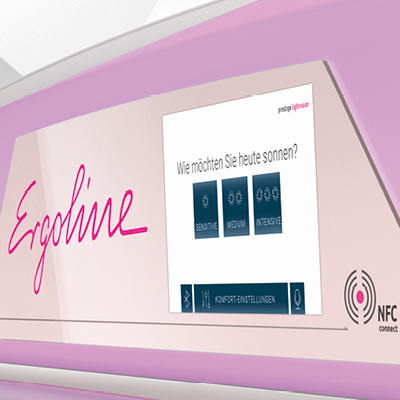 Personal Sunstyle
From gentle to intensive
Personal Sunstyle offers a dream tan at the touch of a button. From gentle to intensive – you always receive a tailor-made tanning result.
Perfect refreshment - From head to toe
3-zone ventilation: Unique in the world: 3-zone ventilation with intelligent automatic ventilation. Foot, body and face ventilators can be controlled separately.
Surround Cooling: The body is washed around by an even stream of air, reminiscent of a cool sea breeze. Surround Cooling is quieter than ever before.
Climatronic Plus: Well-being temperature with powerful air conditioning and heating. In the closed interior, the desired temperature is quickly reached and kept constant.
DETAILS
Radiance
UV-Technology
Comfort
Handling
Radiance
Radiance
With the Prestige Lightvision, special attention has been paid to improving skincare. More than 200 high-performance LEDs guarantee an effective skincare for face, neck, shoulders and body. At the same time, the red light activates the supply of oxygen to the skin, which boosts the tanning effect. For an all-round glowing complexion and smooth skin.
UV-Technology
UV-Technology
Desired tan at the touch of a button! Individual choice of tan from gentle to intense. Simply select your customised tanning experience from three tanning programme options. Regardless of whether you are looking for a lightly tanned complexion or a directly visible, long-lasting tan: the Prestige Lightvision with Personal Sunstyle is always the perfect choice. For the first time ever, the UV intensity for the face and body can be individually adjusted at any point during the tanning session and even turned off completly.
Comfort
Comfort
Of course, the Prestige Lightvision comes standard with all the comfort features you love. Let your tanning experience evolve into a soothing getaway. The feel-good equipment with Aqua Fresh, Aroma, Climatronic PLUS and the new Cinematic Sound System offers luxury at the highest level. All wellness settings can be set in the Exterior Touch Display before tanning and saved on your NFC card. If the chip is held in front of the NFC field during the next visit, the Prestige Lightvision is automatically adjusted to all personal preferences.
Handling
Handling
Lie down, close your eyes and relax. E.V.A. enables for the first time the operation of the sunbed using voice (depending on availability). The intuitive operation is also possible with the two large touch displays. The easy to use menu navigation with large icons is designed like a smartphone. When tanning starts, the display switches to a black-and-white mode, which significantly increases legibility, regardless of the UV protection glasses used.